in russian
Main themes is:
Stage3d vs Webgl
Adobe Game Jam in Hamburg
Some IDEA tutorials from John Lindquist
so lets go
Flash
Gerd Hilgemann 4k (3840x2160) streaming video
4K-video
excellent run on flash, but not html5.
Comparison Stage3D vs WebGL or stunning victory of Flash
Original post on japanese by
Yasunobu Ikeda
show interesting result - on synthesis performance test Stage3D on Away3D engine more than 30 times greater than WebGL on Three.js engine. Good jab Adobe. Table of availability look fun - it seems like author overplayed PSP.
Later
mrdoob had found mistake in a tests. - for Stage3D Yasunobu had used single mash on all of object in the scene, but in webgl test he had used one mash for any object. After changings
webgl
test run as quick as the Stage3D test.
Here
is my test for Stage3D with one mash for one object it also lag as same WebGl.
Proscenium
Proscenium
- Stage3D Engine from Adobe is now opensource, maybe because Grayson Lang main developer of engine now doesn't work at Adobe.
Apache Flex 4.9.0 is Out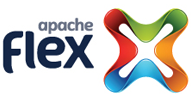 No so impressive list of
changes
, but it's better than nothing. Good job guys
installer
Flash Runtime Rapid Release Cycle
Adobe
moves
private beta forum to public.
html, css, javascript
FFF (Form Follows Functions)
http://fff.cmiscm.com/
is a collection of interactive experiences. Each experience has a its own unique design and functionality. All the experiences are created in HTML5, the site works beautifully on both desktop and tablet. Only for me there is filling of deja vu?
Design / Usability
13 design trends for 2013
Dont' mess, its interesting
to read
. Here is: metros style, more gestes, animation as affordance, "hamburger" menu drawer, native, responsive, wide screen, large fonts, larger search inputs, gif animation, designing for humans, none-web-safe colors, vectors.
10 Useful Resources where you can get best Mobile UI Design Patterns
Very usefull list
, just click and look, how it may look like. Very inspires.
Gamedev
XenoSquad
XenoSquad
- cool game from
@ryzzed
- old-school turn-based tactic, like best one of
Julian Gollop
(RebelStar, LaserSquad, X-COM). And i can't believe at - no any Stage3D, all 3D graphics just rendered on software.
Tools
... in IntelliJ
Here is plant of video tutorials from John Lindquist about useful tricks in
WebStorm
- It's smartest IDE for javascript. One problem is it isn't freeware.
Managing Todos in IntelliJ
Local History in IntelliJ
Custom Live Templates in IntelliJ
File Templates
Events
15th February / Adobe Game Jam in Hamburg
It's
Hackathon event. You have only 24 hours to done your demo of the game. Here will be some famous persons: Bettina Kieslich, Gunnar Magholder, Benjamin Kobjolke, Raimundas Banevicius, Jan Würdemann, Marco Link, Sebastian Martens, David Engelmaier, Tomas Krcha.
PS
If you know interesting about interesting event or information, post it here without hesitate.
PPS
Please recommend free webservice for polling or voting, that like google forms can be injected with iframe, but with ability to show vote result right after voting.